Population Project
Ever since the Industrial Revolution, the population has started to increase rapidly.
The human population reached 1 billion in 1804.
123 years later, we hit 2 billion.
Then just 32 to 33 years later, the population was 3 billion!
Currently, we have more than 7.6 billion people on this planet.
But Earth's resources are finite, and one day, they will run out.
How many people is too many?
Or will progressing technology allow the human population to increase to trillions?
The table and graph below show the population of humanity from 1955, to present day.
| Year | Population (in billions) |
| --- | --- |
| 1955 | 2.772242535 |
| 1960 | 3.033212527 |
| 1965 | 3.339592688 |
| 1970 | 3.700577650 |
| 1975 | 4.079087198 |
| 1980 | 4.458411534 |
| 1985 | 4.873781796 |
| 1990 | 5.330943460 |
| 1995 | 5.751474416 |
| 1500 | 6.145006989 |
| 2005 | 6.542159383 |
| 2010 | 6.958169159 |
| 2015 | 7.383008820 |
| 2018 | 7.632819325 |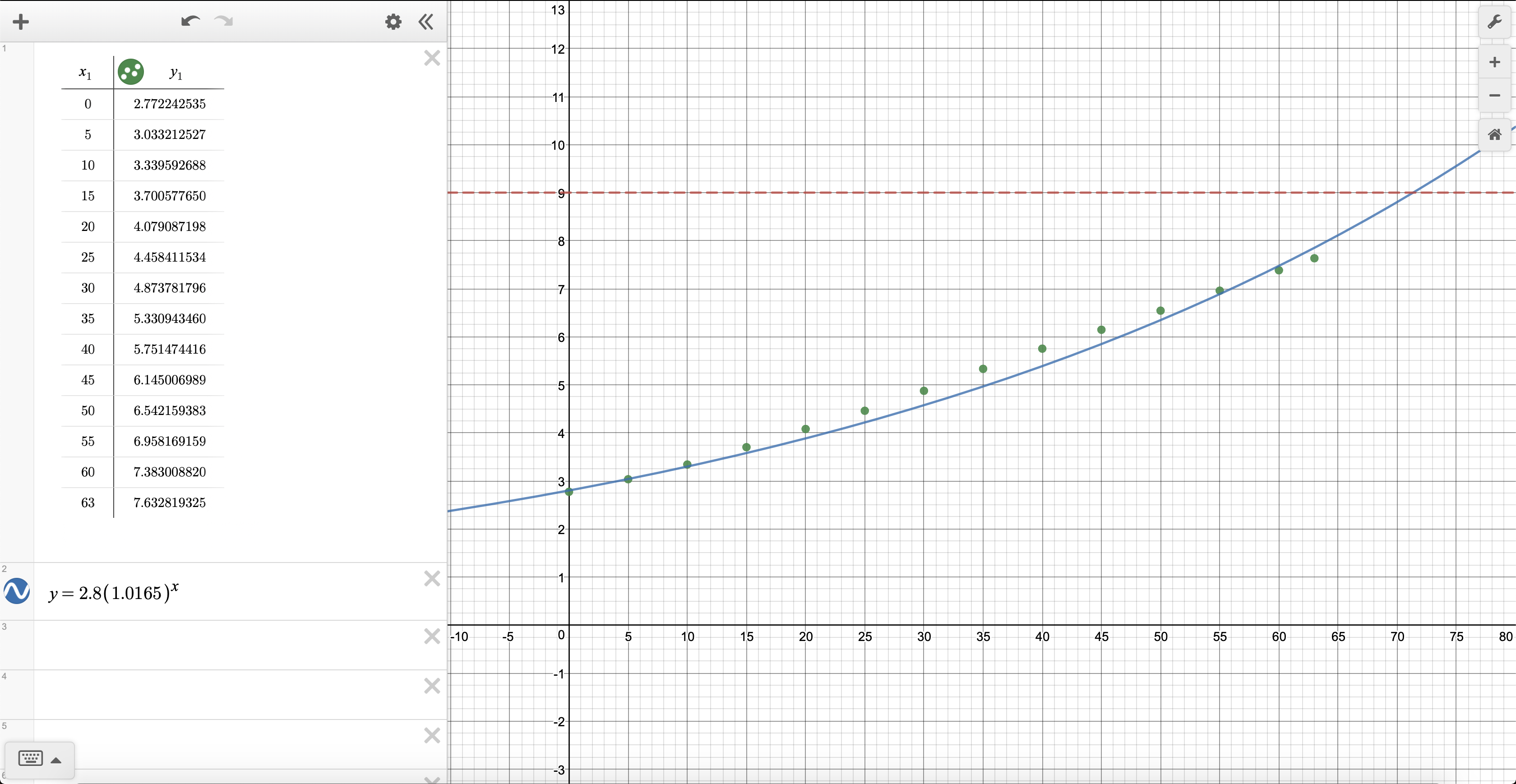 ×
The x-axis is years from 1955, and the y-axis is population in billions.
Why an exponential function and a carrying capacity of nine billion?
Though human population will eventually level out, our group chose to use an exponential model to see at what point in time Earth will be too crowded. The exponential function also models how the population will increase in upcoming years, while the logistic model is a prediction for the far future. Also, there is a chance that technological advancements will progress so fast, that our population will never stop (like cells that don't need food)! Our model predicts that the human population will reach nine billion in 2026 to 2027. That's very soon! But why a carrying capacity of nine billion? Most sources said the carrying capacity is from nine billion to ten billion. But better safe than sorry, and nine billion is much safer than ten billion.
Species will become extinct at an even faster rate than they already are (the current extinction rate is 100 to 1000s times the natural rate).
Coral reefs will die out.
Pollution of air, water, and land will continue to increase.
The number of humans suffering from serious, pollution-related diseases will rapidly increase.
The percentage of the population that is living in poverty will increase.
Malnutrition (and starvation) and disease will become increasingly prominent issues.
Sustainable yields of natural systems will be further exceeded.
Overfishing, overcutting, overgrazing, overpumping, and overplowing will increase.
The successful functioning of the Earth's climate systems, hydrological cycles, nutrient cycles in the atmosphere, hydrosphere, and lithosphere, and the maintenance of biodiversity will continue to deteriorate leading to extreme weather such as hurricanes and wildfires.
The long-term availability of vital resources including food, energy, and water will be affected.
Sea levels will rise as temperatures rise.